By Jesse Wood
Dec. 7, 2012. Eustace Conway is perplexed, astounded and outraged at recent events leading to the closure of Turtle Island Preserve, a 1,000-acre primitive refuge offering educational camps and internships, which he founded 26 years ago in the Triplett community of Watauga County.
"I am so shocked and hurt and so amazed at what I would call a human rights violation," Conway said. "It basically started out as a witch hunt and hasn't changed too much since then."
In the spring, Watauga County Planning and Inspections Department received an anonymous tip that unpermitted buildings were on the preserve – and sometime later a detailed map identifying the extensive trail network and structures on the property.
After the department visited Turtle Island Preserve in June for a preliminary walk through and perused the nonprofit's website, officials became aware of many buildings that weren't permitted and determined that a "more exhaustive inspection" was warranted to locate all of the buildings and their usages, according to documents provided by WCPI Director Joe Furman.
After attempting – unsuccessfully – to schedule a voluntary detailed inspection for four months, WCPI was granted an administrative search warrant to execute the inspection on Sept. 19, which revealed more than 20 buildings without permits.
Tagging along with the WCPI were officials with the Appalachian District Health Department, which found that numerous outhouses and privy pits were not permitted.
An Oct. 17 letter from County Attorney Stacy "Four" Eggers notified Conway that he had 30 days to apply for the necessary permits and requested that Turtle Island Preserve bar any members of the public, including interns, from the vicinity of the structures. Conway was essentially given two options in that letter to settle the dispute: demolish the buildings or secure permits and bring them up to code.
A separate Oct. 17 letter from Eggers ordered Turtle Island Preserve to "cease and desist" from offering food, lodging and primitive camp activities because it didn't posses a valid operation permit.
In addition to the WCPI and ADHD personnel present were representatives from Carolina Code Studies and Consulting, a firm out of Mocksville hired by Watauga County to conduct a 78-page report on the present code violations at Turtle Island Preserve.
Here is a small sampling of what's identified in the report:
–         Unsound structures with rock foundations, high winds could be problematic
–         All lumber used in buildings is unmarked – not certified by a grading organization
–         Motor vehicles without valid license plates
–         No gate or protective measure surrounds the preserve's sawmill
–         Each structure doesn't have fire access roads nearby 
–         Buildings don't have kitchen areas, sinks, bathrooms, potable hot water, showers
–         Unacceptable exterior wood treatment on one of the buildings consisted of motor oil
–         Building code doesn't allow use of outhouses for public use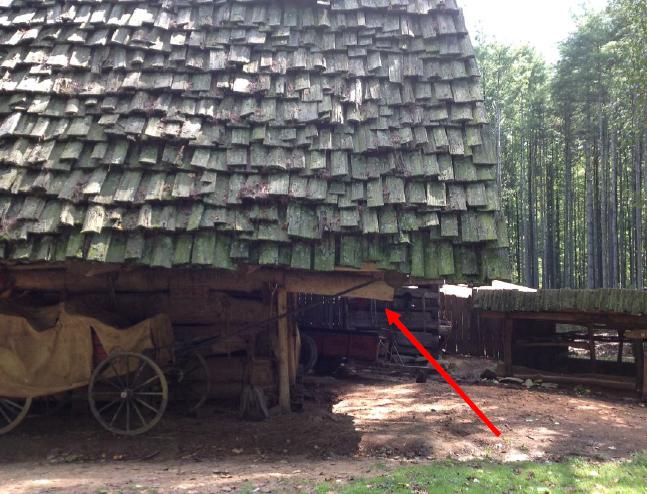 At a press conference at Turtle Island Preserve on Wednesday, Conway talked about when a building inspector was analyzing the buildings during the initial walk through and that the inspector said, "There's just rocks underneath this building."
"I said, 'Yeah, there's rocks under all of our buildings, and in fact, under every building in America until just recently. What do you think they put under buildings in every state of the union?" Conway asked, adding that he could stand in court and punch threw a cinder block but not rock.     
When asked if he would be willing to comply and retrofit his structures to code, Conway replied emphatically, "It's the absolute antithesis of what we are about. That would be like … I don't know. It's beyond apples and oranges. We are so different from trying to be code. That's the whole point – to show authenticity and sustainability." 
Conway, who uses tress from the preserve has lumber, said he's been building for 48 years and called himself and his staff experts in the construction trade.
"To me all of these buildings are something that represent very well thought out, very well planned, very well engineered constructed buildings," he said. "Again, the irony is, we've taken great pride and passion doing a way-above necessary job and we are getting attacked for it."
Furman said the bottom line in all this concerns two specific points.
One, he said, is that hundreds if not thousands of people, mostly children, visit Turtle Island Preserve, and the buildings those people stay in were built without permits, without inspections and are a liability.
Second, Furman added, "What am I going to tell everybody else that has to apply for building permits?"
After 26 Years, Why Now?
This is a question Conway's has pondered for some time recently, and wonders if something else is going on behind the scenes, if there is more to it than just building code and health violations.
For 26 years, Conway said that Turtle Island Preserve has never had a building with structural problems and never has had one health violation in all that time. He said he hasn't done anything different recently than he has in the past.
Furman said he's heard people say that a big developer is behind these proceedings and would like access to the land, but he said this is completely false. He said the WCPI wasn't aware of this issue until a neighbor contacted him, adding that his staff wasn't aware of all of the buildings on the property because it is such a vast land and that they weren't contacted about inspecting any buildings.
"First of all, to see much you have to go beyond signs where it says 'Don't Go Beyond.' You have to walk into the woods to find sleeping quarters tucked away and have to spend substantial time there to find them all," Furman said. "We just didn't know. We've never gotten a call for inspections, so there was no reason to go down there." 
He added that the only time a building inspector was on the property was 10 years ago and at that time, Conway showed that inspector a couple structures that were agriculture buildings, so no permits were needed.
"There was no reason to look any further," Furman said.
However, he added that construction has "certainly" picked up over the past few years.
The health department on the other hand does yearly inspections, and Conway maintains that every outhouse – accept for his personal residence which is miles from the central base camp – has been approved. However, officials with the health department deny those claims.
The Oct. 17 letter sent by the county attorney to Conway regarding the health violations states: "It appears that the [Turtle Island Primitive Experience Camp] has dramatically changed from the plan that was originally submitted."
Asked what those dramatic changes were, Andrew Blethen, the environmental health supervisor for ADHD, said, "Multiple structures on the property, some of which include lodging cabins and new privies weren't addressed in any type of plan review required before each season starts."
Included in the health violation reports, Blethen noted that four privies (outhouses) did not have permits. Conway maintains that he hasn't built any new privies in years. Blethen said the reason those in question don't have permits is because the health department wasn't aware of them, such as the outhouse at Conway's personal residence which is off the beaten path.
"I have had that outhouse for many years. It's not bothering anybody. It's literally miles and miles from a neighbor and hundreds of feet from any stream," Conway said. "I don't let people even get close. I need my privacy and not just in my outhouse."
Conway also noted that his compost pile, which consists of urine and sawdust, was deemed illegal by the health department. Blethen said his agency doesn't regulate composting.
However, the health department can't permit a privy pit after it's already been built, so one of the things the health department is requiring of Conway to be up to speed on permits is abandoning the unpermitted privies and pump all of the waste out with a septic system pumper.
"They want to bring a tanker trunk in here and suck all human waste out of here and take the waste from our hole and put it in some other hole. It's a spiritual experience to be able to put my [urine] in to the earth in a proper way," Conway said, adding that he'd never heard of anyone pumping waste out of an outhouse.
Conway transports the mixture with sawdust from the privies to the compost pile in the central base camp area. From there the mixture rots into fertile soil and is then placed into the garden, where garlic, kale, parsley and other foods are grown.
"For me and a lot of other people who have the revelatory experience of thinking about their human place in the world, this can become a spiritual experience," Conway said. "That's one of the violations. To me it is unacceptable that this is unacceptable. Nature governs the world. Nature has been governing this planet for longer than any state, federal or other human authority and it always will."
"The huge irony on this story is that the health department is attacking us. And guess what we are teaching about? Health, true health, health for the planet, a sustainable health."
Conway, who was born in 1961, has become a celebrated figure. Hundreds of stories have been written about him, including the National Book Award-nominated The Last American Man, written by Elizabeth Gilbert in 2002. Currently, Conway is one of several characters in the reality TV show on the History Channel called Mountain Men.
He graduated with honors from ASU, where he walked with bare feet or mocassins to class. During those college years, Conway lived in a tipi, something he did for a total of 17 years. He earned a living by showcasing his primitive skills and educating the public on the traditional ways of living. This is how he paid for the land that is Turtle Island Preserve. Of the 1,000 acres, 500 of it is Conway's and other compatible friends and neighbors own the rest. 
"I live in a different world," Conway said.
Property Rights Advocate Sen. Soucek Visits Turtle Island
Conway has maintained that this whole ordeal has been an infringement on his personal property rights, which piqued the interest of N.C. Sen. Dan Soucek, who visited with Conway at Turtle Island Preserve on Thursday. 
He spent two hours on the property. He decided to give Conway a visit after receiving some phone calls, including two from someone on the State Board of Inspections and the Appalachian District Health Department.
"[Property rights] is one of the things I was interested in. What someone does on their own land and having a great deal of flexibility, allowing people to live the lifestyle they want to live," Soucek said. "I think property rights and personal freedoms are issues at stake here."
Soucek said he is still in the "information-gathering" stage, but at first glance, he sensed that Conway's vision of living a primitive way of life not much different from centuries-old ancestors in the mountains could possibly work with compromises, adjustments "from both sides" – unless something egregious is found.
He said that Conway's track record of no injuries or illnesses in 26 years "says an awful lot" and that legislation exempting Turtle Island Preserve from the modern rules and policies is one avenue to tackle the dispute. 
Not only did the property rights issue intrigue Soucek, but he said that Conway's nonstandard way of living was fascinating. 
"His vision is outstanding. He's not just teaching mountain life, but he's living it [in a fashion that] can't be implicated in a classroom," Soucek said. "It's a lifestyle. It's a valuable part of our heritage."
For Conway, he feels not only has the county "attacked" his personal freedoms and property rights but also mountain culture in general.
"Here is a mountain community, mountain health department attacking mountain traditions. The very show they showed me on is called Mountain Men, and it's celebrating old traditional ways," he said. "They are telling me I can't do what all of our ancestors have done. It's very extremely American. You know building a log cabin like Abraham Lincoln and our forefathers. How romantic is that? That's what they did and have been celebrated for. That's the romantic image of our old pioneer days, and it's the foundation we rest upon."
Conway said he is also befuddled that he is violating state laws and all he is trying to do is live as close to nature as he possibly can.  
Mentioning life's essentials – shelter, clothing, water and food, he said, "What I am finding out, looking at the laws of North Carolina, is that it is really very challenging to have natural contact and independence with those life support systems."
But in reality, it's very challenging for him to share those things with other people, especially kids coming onto the property, and he said that if it was only him with no visitors, then he probably wouldn't be in the mess that he is currently in. 
"We can't share those healthy birds if we want to eat them. We can't build with materials that are local, sustainable and organic," Conway said. "I can't serve food grown on the farm to people. I can't let [visitors or interns] go out and drink spring water. They can have bottled spring water from corporations that paid bribes and dues for that. I'm talking about the human essence of life – drinking water. I'm not talking about having a big liquor party. I'm talking about drinking water."
"What I am seeing and experiencing is a heap upon heap of stuff that doesn't seem to be reasonable, correct, ethical, intelligent or constitutionally sound period," he said. "If you thought of the 10 most oppressed places on planet earth, the 10 most oppressed governments and go ask the people, 'Can you build a house?' They would, say 'Yeah, why wouldn't I be allowed to build a house.' But not in your land of the free."
Appealing to Higher Authorities
Since being contacted by Watauga County officials earlier this year, Conway has sought legal counsel as well as two building experts, including Glen Walker, PE, a structural engineer out of Hickory that works nearly everyday in Watauga County inspecting large homes.
Although Walker hasn't done "number-crunching analysis" yet, he said that through his general observation he thinks the buildings are structurally sound and safe.
"I think we can resolve it," Walker said.
He has also retained the services of two attorneys – Tom Speed and Forrest Farrell. Speed is a local attorney, and Farrell is based in Hickory and served as a N.C. Superior Court Judge for 24 years.
On Dec. 10, his crew of building experts, attorneys and staff will travel to Raleigh to attend a N.C. Building Codes Council meeting, for which he said he is on the agenda. He is appealing for an exemption or variance from building codes for historical and educational purposes to allow the Turtle Island Preserve programs to continue and keep it open to the public.
He mentioned that although the preserve has been open to the public in the past, it wasn't open to the public like, say, a McDonald's. Trespassing signs dot the two entrance roads to the preserve, and potential visitors would be turned away if they didn't call in advance, go through an interview process and then schedule a visitation time. 
Since the preserve closed in October, Conway said he has had to turn away two troops of Boy Scouts and cancel a blacksmithing workshop and equestrian class.
Nearly three weeks ago, staff of Turtle Island Preserve created a petition at www.change.org to raise awareness of their plight and to encourage supporters to contact the N.C. Building Codes Council. Since then, nearly 10,000 people have signed the petition, and Conway said that folks from all over the world have showed support through phone calls, emails, social media and by signing the petition.
Even if the N.C. Building Codes Council doesn't grant Turtle Island Preserve an exemption next week, Conway has pledged to continue the fight.
On Wednesday, Conway was asked, "Would you be willing to go to jail for this?"
He said, "I would be willing to die for this." 
Correction: A previous version of this story stated that Eustace Conway and the Turtle Island staff composts human waste, which was thought to include feces. However, that was in accurate. Conway said that he only composts urine. High Country Press apologizes for this error.
---
Peruse other articles written after this one for more current details about the current issues surrounding Eustace Conway and Turtle Island Preserve:
https://www.hcpress.com/news/eustace-conway-of-turtle-island-speaks-before-nc-building-code-council-members-direct-staff-to-find-good-solution.html
https://www.hcpress.com/news/eustace-conway-of-turtle-island-preserve-arrested-on-wednesday-for-second-degree-trespassing-on-neighbors-property.html
https://www.hcpress.com/news/in-light-of-turtle-island-eustace-conways-plight-state-building-code-staff-to-recommend-code-modifications-that-would-address-primitive-habitats.html